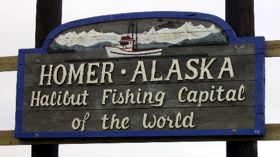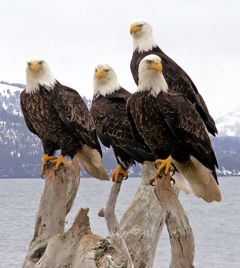 Local bald eagles join in for a rest



The town of Homer
Homer is an hours drives drive from the Lodge and a great day trip for our guests.

We can arrange a variety of activities for you to get up close an personal with the great Alaskan outdoors.

Some things to do in and around Homer:
Pratt Museum for local history and an overview of the local wildlife.
Halibut Cove for the view on the boat ride over (otters, puffins, whales and more) and a leisurely stroll along the boardwalk (not to mention some pretty good grub).
Seldovia for a scenic boat ride (more otters, puffins, whales, etc.) and a casual walk through a once thriving Russian fishing village.
Lands End Restaurant for Alaska's best clam chowder and perhaps the world's best Bloody Marys (not to mention one of the best views from a bar stool or restaurant seat anywhere).
The Salty Dog Saloon for local flavor and hearty spirits.
The Gift Shops of the Homer Spit for something for just about everyone on your gift list.
The Fisherman's Memorial for a quiet reminder of the power of the sea and the tenacity of those who owe their living to her.
Please contact us and let us recommend the off-the-beaten path experiences for your Homer adventure.